Dental Implants in Maywood, Wayne & Franklin Lakes
---
Costello Oral Surgery Associates provides dental implants to patients in Paramus, Maywood, Wayne and Franklin Lakes. Contact us to learn more or schedule an appointment at one of our 3 New Jersey offices.
Single Tooth Dental Implants
---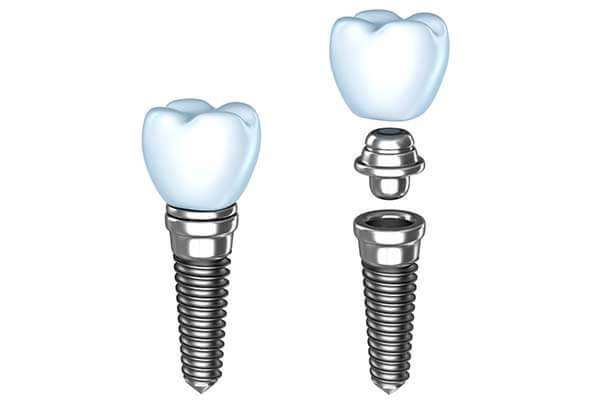 ---
Dental implants replace tooth roots in the mouth. Implants provide a strong foundation for fixed or removable replacement teeth and can aid in the prevention of bone loss in the jaw.
---
Implant Supported Bridges
---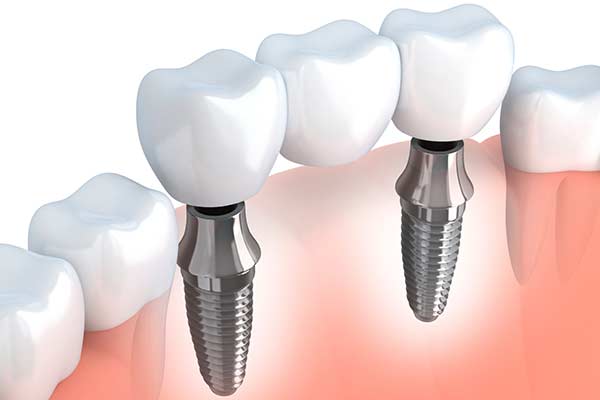 ---
An implant supported bridge is a restorative solution for spaces where three or more adjacent teeth are missing. This restoration typically requires two implants to support the porcelain bridge. The bridge provides a functional and aesthetic replacement for a patient's natural teeth.
---
Implant Supported Dentures
---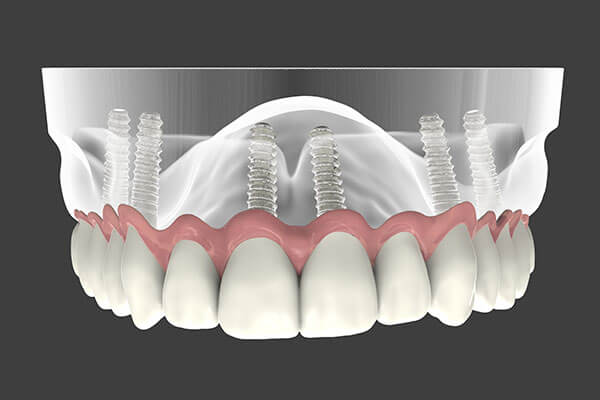 ---
For patients who are missing many or all of their teeth, implant supported dentures may be an alternative to traditional dentures. This solution requires the placement of two or more implants. In order to replace a full arch denture, a minimum of four implants is generally recommended. Eligibility for this solution is dependent upon a number of factors, with jaw bone density being one of the most significant determining factors.
Traditional dentures rely on an acrylic base that sits directly on the gums, held in place by a paste or adhesive. Using implants as supports for dentures allows for a smaller and more comfortable base and less shifting of the prosthesis during use.
Implants can support both full and partial dentures as well as both fixed and removable dentures.  If a removable denture is selected, the denture will "snap" on to the implant rather than requiring the use of denture paste or adhesives.
---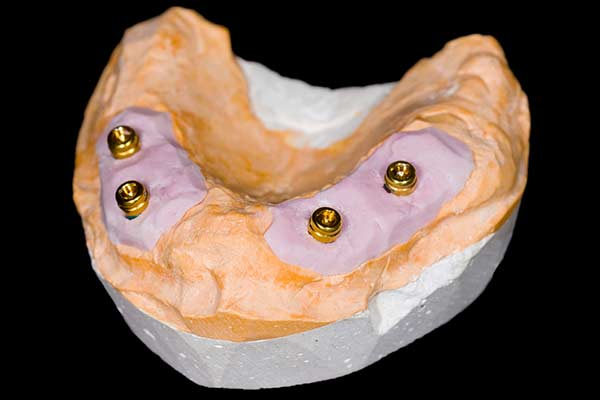 ---
This procedure is a unique implant solution that allows patients with a completely edentulous (toothless) upper or lower arch to replace all of the teeth in that arch using as few as four implants as anchors.
---
With this technique, specialized software is used to create custom surgical guides. These guides direct the exact location, angle, and depth of each implant placement. The use of the guide increases the accuracy, efficiency, safety, and predictability of the procedure.
---
Dental Implant Questions
---
What is the cost for dental implants in Paramus/Bergen County, NJ?
---
Dental implant fixtures can range in price from $1500 -2500 and may be eligible for insurance benefit provision. Generally, the fee for one complete implant restoration, including the abutment and crown that connect into the fixture, ranges from $4000 - $6000. Several factors influence your final out-of-pocket cost including the need for bone grafting. These factors vary by individual case. A specialist consultation with our maxillofacial surgeons are important to provide a clear understanding of what is needed to meet your needs and, ultimately, result in a successful implant restoration. 
What can be expected during my dental implant consultation?
---
Consultation with our surgeon allows for the formation of your treatment plan and discussion of additional options you may also consider to achieve your desired outcome. Our maxillofacial surgeons will evaluate your oral cavity along with your x-rays and available 3-dimensional scans. Implant fixtures rely on bone support. When patients do not have enough bone, your surgeon will discuss bone grafting procedures to achieve successful implant placement for the associated restorative outcomes. 
How will I know if I am a candidate for dental implants?
---
Our surgeons' expertise and extensive training coupled with sound surgical principles and utilization of well-conducted literature are the platforms from which your medical history, x-rays, and other diagnostic tools are analyzed to determine candidacy for a dental implant. A specialist consultation with our surgeons are necessary to properly plan your treatment. 
How long will it take me to return to normal activities after getting dental implants?
---
Routine post-operative instructions are in place following implant surgery. Patients can generally resume non-strenuous daily activities soon after having your dental implants done. Restriction of vigorous exercise is customary for about 7-10 days after surgery. Dietary restrictions will be in place for several weeks and, in some cases, for a longer period of time depending upon the extent of your surgery.
How much pain is involved with dental implants surgery?
---
Patients who have had dental implant surgery with our surgeons report a rather comfortable procedure and experience. Local anesthesia serves as the basis of comfort. Of course, if you seek to have additional anesthesia options, they are available and will be discussed during your consultation. Proper tissue management by our maxillofacial surgeon offers comfortable healing. We have developed successful over-the-counter pain medication protocols to aid in your comfort after you leave our office.
Can I get dental implants in 1 day or the same visit?
---
Our maxillofacial surgeons are experts in determining "best timing" of implant placement. Not all patients are candidates for immediate implants while many are. The ability to place a same-day dental implant is heavily influenced by the bone quality and health of the site. Your specialist consultation for a dental implant is designed to address this and other questions pertinent to their placement.
Are same day implants more expensive?
---
Not necessarily. Your cost of a dental implant is calculated in part by the extent of your treatment plan and whether your dental insurance carrier offers reimbursement toward your surgery. For instance, the number of implant fixtures, the extent of bone grafting and the type of anesthesia you select will affect your fee.  Our treatment coordination team is available to assist you with questions regarding timing and expenses in more detail.
What will I do with my missing tooth while the implant is healing?
---
Together with your restorative dentist, our surgeon will plan for a replacement if necessary. Not all implant placement sites require a temporary solution. Options for temporary replacements of a tooth or teeth include Essix appliances, resin-bonded bridges, and "flippers". This is another aspect of conversation during your specialist consultation.
What differentiates a dental implant from dentures?
---
A dental implant placed by our surgeons replaces one tooth whereas a denture or a partial denture replaces several or more teeth and is removable, unlike an implant restoration. A successful implant restoration will function and feel like your natural tooth. Unlike a denture, an implant restoration allows you to maintain a more natural feeling and functionality.
What is the difference between a dental implant and a dental bridge?
---
A dental bridge requires that teeth adjacent to the missing tooth are prepared with a dental drill to reduce their size enough to accommodate the "bridge". This unfortunately shortens the life span of the supportive teeth on either of the missing tooth (pontic) which, had they not been prepared to support a bridge, could have lasted your lifetime with proper care. Implants, on the other hand, avoid the need to violate healthy adjacent teeth as the implant fixture placed between your natural teeth avoids using the healthy teeth whatsoever. Implants can also be easier to clean than a bridge. 
---