Originally from Queens, New York, Dr. Tiffany Kuang knew as a young girl that she wanted to disrupt the status quo surrounding the way patients receive medical and dental care. Becoming a Board Eligible Oral and Maxillofacial Surgeon was the perfect opportunity for Dr. Kuang to personally and positively impact the health and well-being of others. While at Rutgers School of Dental Medicine, formerly University of Medicine and Dentistry of New Jersey, Dr. Kuang excelled while earning her DMD with Honors at the top of her class. Her love for oral and maxillofacial surgery deepened while she was in her General Practice Residency and the following year, Dr. Kuang affirmed her commitment to pursue specialized training in oral and maxillofacial surgery at Rutgers then St. Joseph's University Medical Center where she excelled in all facets of oral surgery. During her residency, she continually operated both in the O.R. and in the clinic setting on a wide variety of cases involving trauma, craniofacial and dentoalveolar infections and reconstructions. She is confident when she says that, "No two cases are exactly the same" and enjoys using her surgical skill and medical acumen "in tandem with the latest technological tools, to plan and achieve the best possible outcomes" for her patients.
---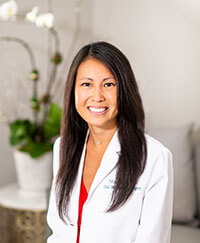 An avid and curious learner and teacher, Dr. Kuang has contributed to oral surgery literature both online and in print with a chapter on Hemostasis entitled "Local Factors in Hemostasis and Platelet Review". She has also donated her time and expertise providing much needed surgical support to Native Americans in Red Mesa, Arizona and on mission trips through Smile Bangladesh where she repaired cleft lips and palates for patients in severely underserved areas.
When Dr. Kuang is not tending to her patients, she enjoys reading, hiking and traveling internationally. She is delighted to continue her successful journey as an oral and maxillofacial surgeon here at Costello Oral Surgery Associates.
---